Yinlong New Energy Luoyang Industrial Park Project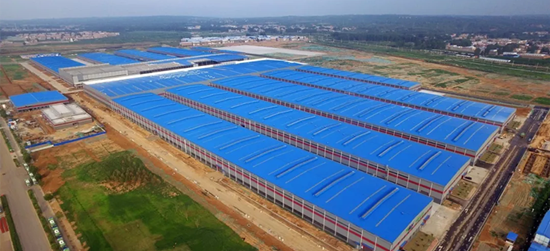 Year: 2018
Project Category: Automobile Industry
Project Location: High-tech Zone, Luoyang City, Henan Province, Henan Province
Product: High Weather Resistant HDF Color Coated Sheet
Usable area: 800,000 square meters
Project introduction:
The first phase of Yinlong New Energy Luoyang Industrial Park covers an area of ​​1,800 mu, with a factory building area of ​​about 800,000 square meters. All of them use Guanzhou color-coated sheet products. More than 3,500 tons have been supplied, and they are still being supplied. After the project is completed, it will become Yinlong's new energy vehicle production base in Luoyang, with an annual output of 10,000 pure electric commercial vehicles, 5,000 pure electric special-purpose vehicles, 5,000 new energy sanitation vehicles, as well as new energy pickup trucks, Pure electric agricultural machinery and other new energy models. (Source: Internet)
The interior and exterior roofs and walls of the project plant are made of Guanzhou high-weather-resistant HDP and PE color-coated panels. Guanzhou high-weather-resistant color-coated board is a metal baking paint color board made of HDP high-performance polyester coating and then baked at high temperature. Due to the difference in the resin molecular structure of high-performance polyester and ordinary polyester, High-performance polyester has better resistance to UV damage and better durability, and its main properties are between polyester and fluorocarbon. Guanzhou high-weather-resistant HDP color-coated sheet is mainly suitable for chemical, metallurgical, electric power and other industries with high requirements for anti-ultraviolet and corrosion resistance, as well as coastal and plateau areas.
Email

HotLine

WhatsApp

WhatsApp

+86-13963515221

GUANZHOU